Fayetteville, NC, 10th December 2022, ZEXPRWIRE, The Whaley Center, a shopping mall of retail secondhand shops, has made gift cards for the holiday available in the center.
The holidays are just around the corner, and the Whaley Center is offering a great way for people to show their loved ones how much they care. With this year's inflation causing a financial crunch, why not give the most thoughtful gift of all? People can show their appreciation with something that every budget can benefit from—money! Whether it's a teacher, personal trainer, or hair stylist providing essential services to our communities, finding the ideal "thank you" gift can be challenging. However, an overwhelming gesture of appreciation goes such a long way in showing these hard-working individuals just how much their efforts are valued and cherished!
Whaley Center's gift cards for the holidays are a great way to show appreciation and thank those worthy people. Gift cards from The Whaley Center make the perfect holiday present for just about anyone! Gift cards are always one of the best holidays presents that could be given to anyone because they can actually get just about anything they want or really need. With gift cards from The Whaley Center, people can shop for anything in the store, including apparel, accessories, and home decor.
These gift cards are always in style and are available for purchase in all three stores in The Whaley Center. With its hassle-free approach, giving someone a Whaley Center gift card allows them to be able to shop for themselves and pick just what they need or want from any of the three stores. The gift cards can be used for everything from clothing and school items to home decor and more—a true win-win! Plus, with multiple denominations available, each one tailored to any budget, there's something for everyone on the list this year!
"Our gift cards can be used for a variety of items provided by our stores, such as clothing, shoes, bags, and other items. You can also choose to have the gift card used at any of our stores located inside the center. Not only are our gift cards convenient and easy to use, but they are also stylish and of the right size—a great way to not just show your love, but also save! Don't wait—surprise your loved ones this holiday season and get a gift card from The Whaley Center today! They will thank you for it!" – Karese Whaley, owner of The Whaley Center.
Gift-givers may become overly sentimental and choose items that are meant to indicate how well they know and care for the receiver, but most people really want things that will make their lives simpler. Why settle for presents that may or may not be used? This year, give the gift of practicality and make someone's life easier. Show love with thoughtful items that can actually enrich their day-to-day life! Whether people are shopping for family, or friends, or just treating themselves, our gift cards are ideal for any occasion. Plus, when a person purchases a gift card from The Whaley Center, the recipient can use it to enjoy all the unique and wonderful items offered by The Whaley Center.
Gift cards can provide shoppers with a lot of advantages when it comes to finding the perfect item that is needed. This gift card can be purchased physically and is designed to encourage the recipients to treat themselves to something special at The Whaley Center this holiday season. The gift card is able to be used in person, making it easy to grab the perfect item for a friend or family member regardless of their preference.
With an extensive selection of products and services, the gift giver can guarantee that the recipient will find something they love! Plus, with gift cards beginning as low as $5, a person can give them exactly what they want without breaking the bank. Don't let the holidays pass by without giving loved ones a present they'll appreciate forever.
It is, however, important to note that these gift cards can only be used in any of the three stores within The Whaley Center. It is not one that can be used in many other stores in the area, or online. This is a great way to support local businesses and give a fantastic gift that will never go to waste! And remember: no matter what you choose, any present purchased from The Whaley Center is sure to bring smiles this holiday season. Don't delay; get the gift cards today and make someone happy during this special time!
"We had put a lot of thought into making these gift cards available just in time for the holidays," said Karese Whaley. "We want to make sure that everyone has the opportunity to give something special and unique that can be used right away. Our gift cards are perfect for those wanting to shop responsibly and easily this holiday season."
The Whaley Center gift cards are available in several denominations, so people can choose the perfect amount for a loved one. Plus, the gift cards never expire, and there are no additional fees. People are expected to give the special people in their lives a memorable experience this holiday season—purchase gift cards for the holidays from The Whaley Center.
With these gift cards, people can show their appreciation while also supporting local businesses and helping make the holidays a bit brighter for those they care about. Shop Whaley Center gift cards today and let your loved ones pick out something special just for them. A Whaley Center gift card can help you create holiday memories this year!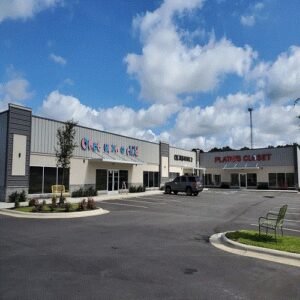 Media Contacts
Company Name: The Whaley Center
Email: [email protected]
Company Website: https://thewhaleycenter.com/
Address: 4544 Yadkin Rd, Fayetteville, NC 28303, United States
Phone: +1 910-867-6822
Facebook Link: https://www.facebook.com/TheWhaleyCenter
Tiktok: https://www.tiktok.com/@thewhaleycenter
Twitter: https://twitter.com/CenterWhaley
The Post The Whaley Center Is Selling Gift Cards For The Holidays appeared first on ZEX PR WIRE
Information contained on this page is provided by an independent third-party content provider. Binary News Network and this Site make no warranties or representations in connection therewith. If you are affiliated with this page and would like it removed please contact [email protected]